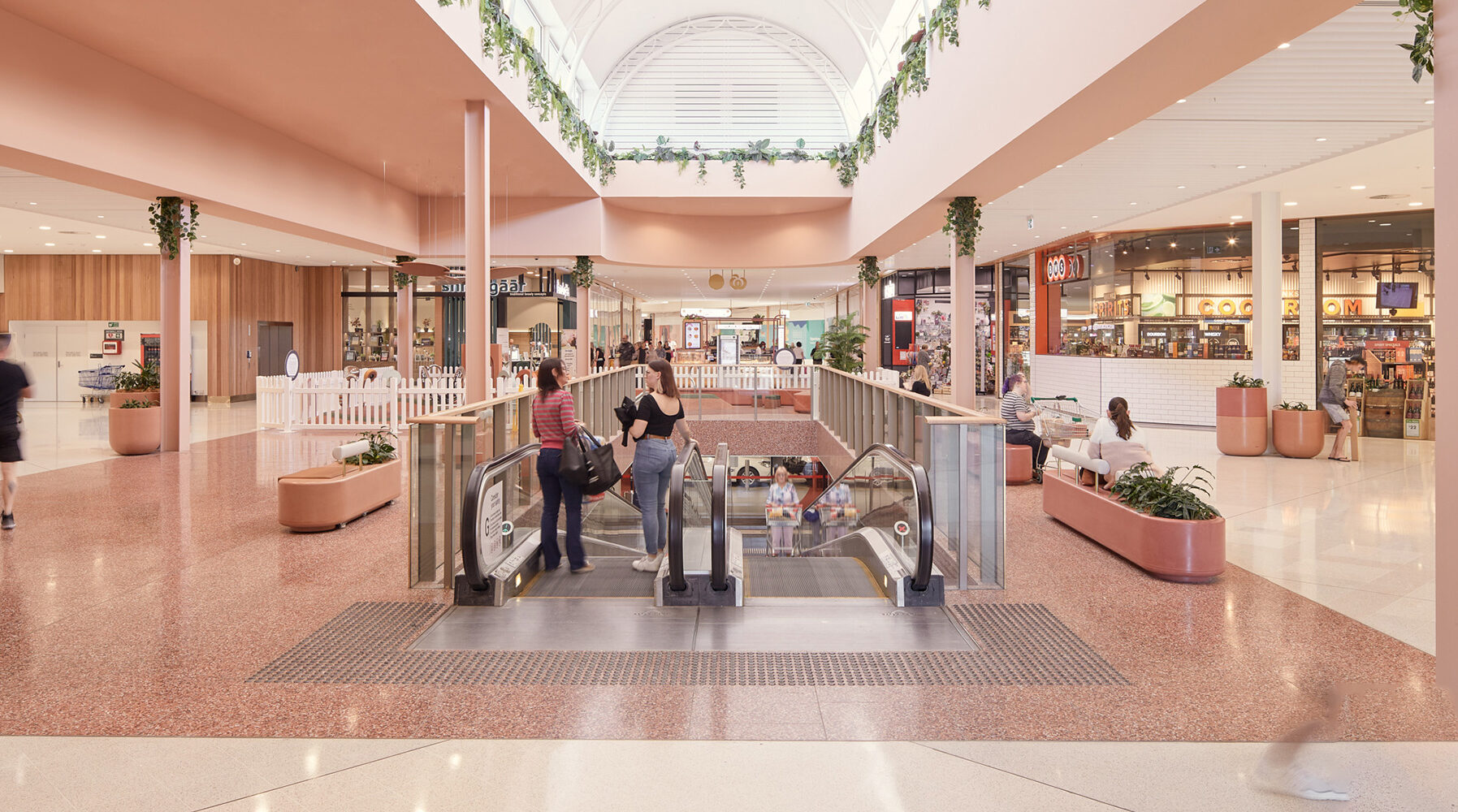 Hyperdome North Mall Upgrade
Hyperdome's North Mall was recently upgraded as the first chapter of their multi-million-dollar staged evolution. Inspired by the changing needs of the region and their local community, the North Mall's transformation focusses on access, ambiance and convenience.
The interior design theme took inspiration from Queensland's tropical climate and the North Mall redesign emphasises space, volume and natural light which is enhanced by overhead greenery.
Buchan contacted us early in their design phase to discuss their conceptual ideas and to identify which of our product ranges could be customised to suit their vision. We provided drawings of our Deco, Alfresco and Bondi seat planters and worked collaboratively with their talented design team to create a bespoke suite of seating units. We were able to help the team resolve the furniture designs and provide guidance on the parameters of working with GRC, mould-making and providing block outs for upholstery and USB charging stations, as well as fitting braking castor wheels to some of the custom Deco seat planters.
In addition, our U Bowls and Fusion pots were specified to compliment the design theme and to provide additional greenery.
We introduced the design team to Comax Australia early on for all custom upholstery elements. Comax's distinguished reputation in the industry with regards to bespoke furniture design and custom upholstery solutions combined with the fact that we've successfully collaborated with them in the past, made them the only choice for this project.
Comax interpreted Buchan's ideas and design specifications, confirming vinyl and brass finishes suited to the overall design theme. They then provided guidance on upholstery templates and installation methods which were incorporated into the final shop drawings. Comax matched the specified CCS colour palette with Buchan's upholstery selection to create a seamless transition from the GRC base to the padded upholstered seat.
Built was awarded the construction, fit-out and refurbishment contract and successfully managed this project by working in partnership with various sub-contractors and stakeholders to deliver the staged transformation of the North Mall, with minimal disruption and inconvenience to shoppers. Quatro Design nominated Troy Montgomerie and his experienced team from Company 17 to install all seating units and pots. All work was completed after hours to minimise disruption.
We're pleased with the final outcome and proud to have played a part in Hyperdome's evolution.
For more information on this custom project download our detailed case study here.
Photography by David Chatfield.