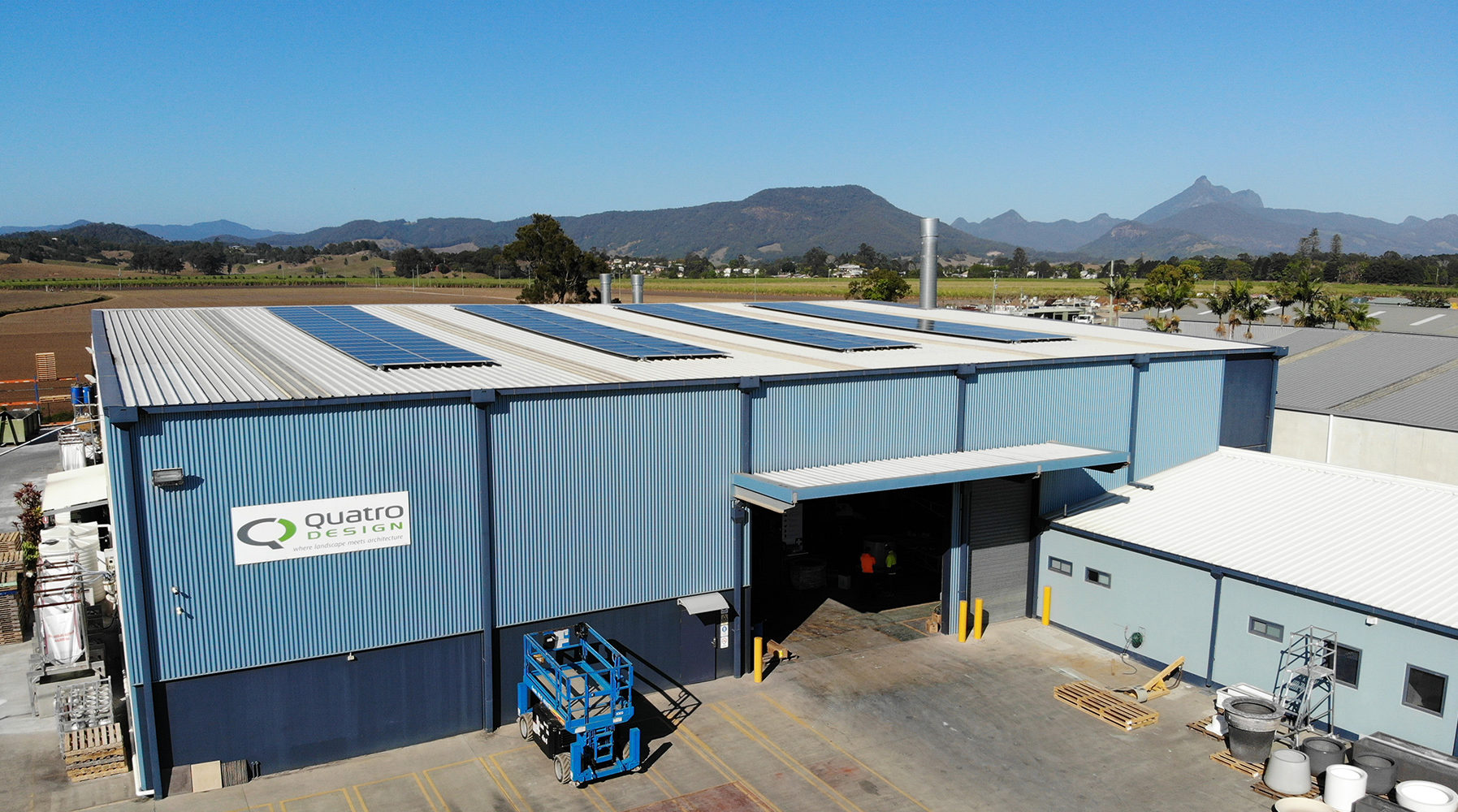 Greener Manufacturing
Quatro Design is constantly striving to implement more environmentally friendly methods and strategies to our manufacturing processes to further reduce our footprint. Apart from supplying pots, planters and street furniture to facilitate the addition of greenery to urban landscapes we've incorporated some of the following practices at our Murwillumbah factory:
We've replaced all 400 watt metal halide bay lights with energy efficient 150 watt LED lights throughout our factory.
All fluorescent lights in our office have been replaced with LED lights.
Translucent sheeting was installed along our east-facing factory wall as well as roof sky lights to increase natural lighting inside the factory.
We're also very proud of the water-recycling system we designed that collects all water used to wash down the factory floor and equipment. Solids are allowed to settle out and the water is treated to bring the alkalinity back to neutral pH, from there it goes into storage tanks for re-use in the daily factory wash-down.
We've had a recycling bin installed for all cardboard packaging that is collected on a weekly basis by the recycler.
We've also participated in a waste audit by Bin Trim Assessor as part of the New South Wales Environment Protection Agency (EPA) program.
We're proud to announce that we can add a new solar powered system installed on the roof of our factory to this list. The team from East Point Power arrived on site last week and have been working hard to ensure that our new solar system gets up and running.
The team from East Point Power are locally based and grew up in the Northern Rivers area, we support local small business as much as we can when engaging suppliers to ensure that we're supporting families in our surrounding community.
Solar power is a truly renewable energy source, it is available every day world-wide. Did you know that one hour of the sun's energy could meet our planet's energy needs for one year? Solar power has no emissions, is noise pollution free and assists us in reducing our carbon footprint by reducing our reliability on fossil fuels. The system requires minimal maintenance too which in turn reduces waste.
We've had a 39 kW system installed which translated into 144 panels on our factory roof. We'll be tracking our CO2 reduction on a monthly basis and are aiming for a 80% saving in power used from the grid.
We're committed to constantly reduce our impact on the environment whilst manufacturing our landscape pot, planter and street furniture ranges. We already use less cement than precast products as our products are "hollow" with a reduced wall thickness. Watch this space for more updates on our greening initiatives.
Quatro Design – where landscape meets architecture