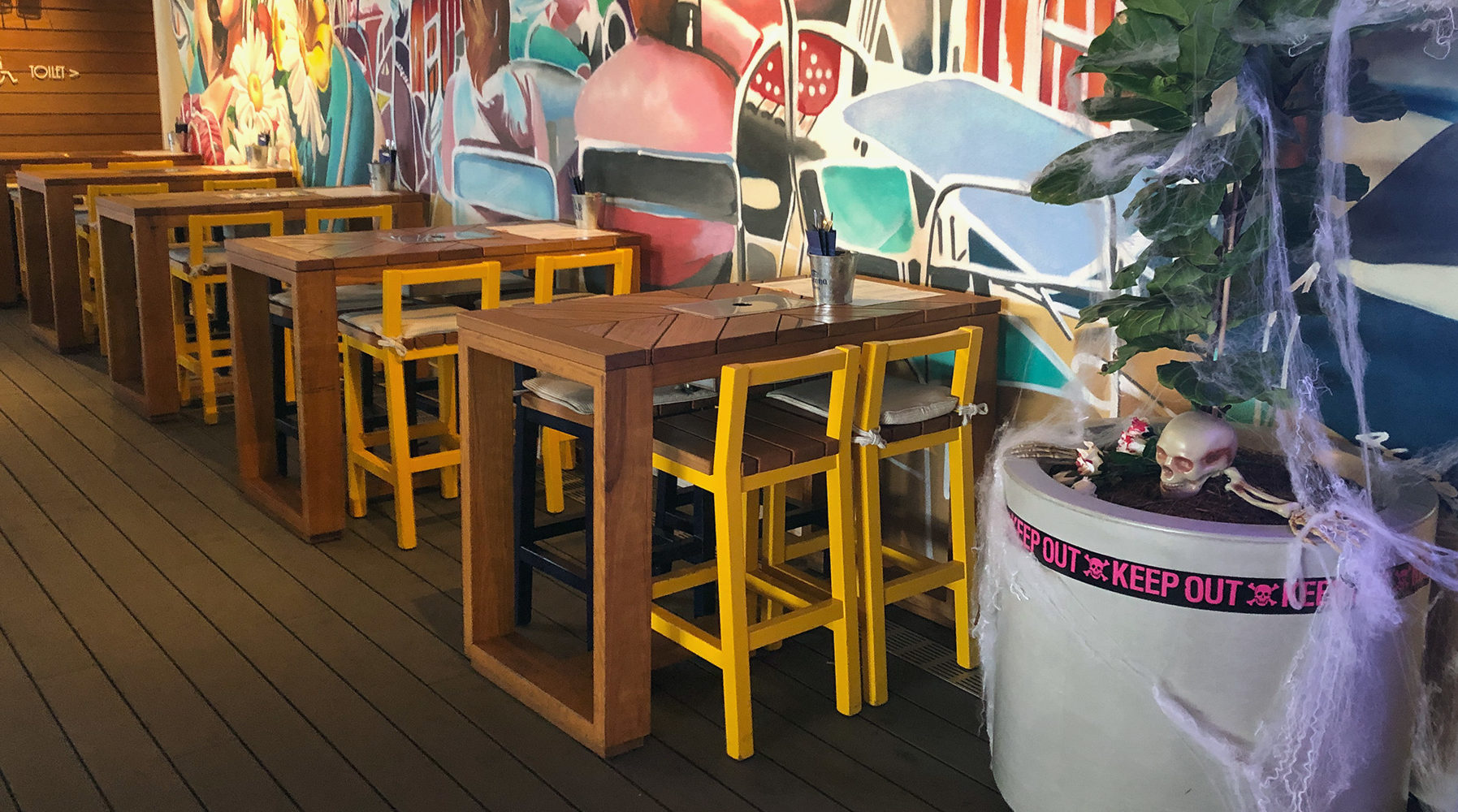 Halloween at Surfers Paradise Beer Garden
Following its multi-million-dollar refurbishment by owners ALH Group and the grand opening in August this year, the newly refurbished Surfers Paradise Beer Garden has stayed true to its heritage as a much-loved local watering hole.

The Surfers Paradise Beer Garden and Birdwatchers Bar formed part of the original Surfers Paradise Hotel opened by Jim Cavill in 1925, this iconic hotel and bar has been rebuilt various times over the years, following a devastating fire in 1938 and the construction of The Paradise Centre. It is one of the longest running establishments in Surfers Paradise.
CYLINDER PLANTER RANGE
Rohrig ordered a collection of our Cylinder planters as part of the refurbishment of this iconic space. Three GRC (Glassfibre Reinforced Concrete) 1200 Tall Cylinder Planters in white form the heart of Palm Tree Alley. This open space with its inviting artificial lawn floor and long tables provide exclusive bar access for patrons and is the ideal space in which too enjoy Giant Jenga and Connect Four.

Eleven GRC 800 Medium Cylinder Planters in concrete grey were dotted around the rest of the space, adding greenery and interest to the various sections on offer: Birdwatchers, Seaside Deck and Urban Oasis.

The Cylinder planters are a wonderful compliment to the retro coastal interior and provide the perfect vessel for hardy Palm trees and Fiddle Leaf Fig's.
HALLOWEEN CELEBRATIONS
Surfers Paradise Beer Garden hosted a Halloween party for locals and holiday-makers on the 31st of October and our Quatro Cylinder planters got dressed for the occasion. Cobwebs, crime scene tape and scary skeletons were added to the Cylinders to form part of their Halloween decorations.
The event was a huge success and we can't wait to see what the team will add to our Cylinder planters next year.
Quatro Design – where landscape meets architecture
Links: