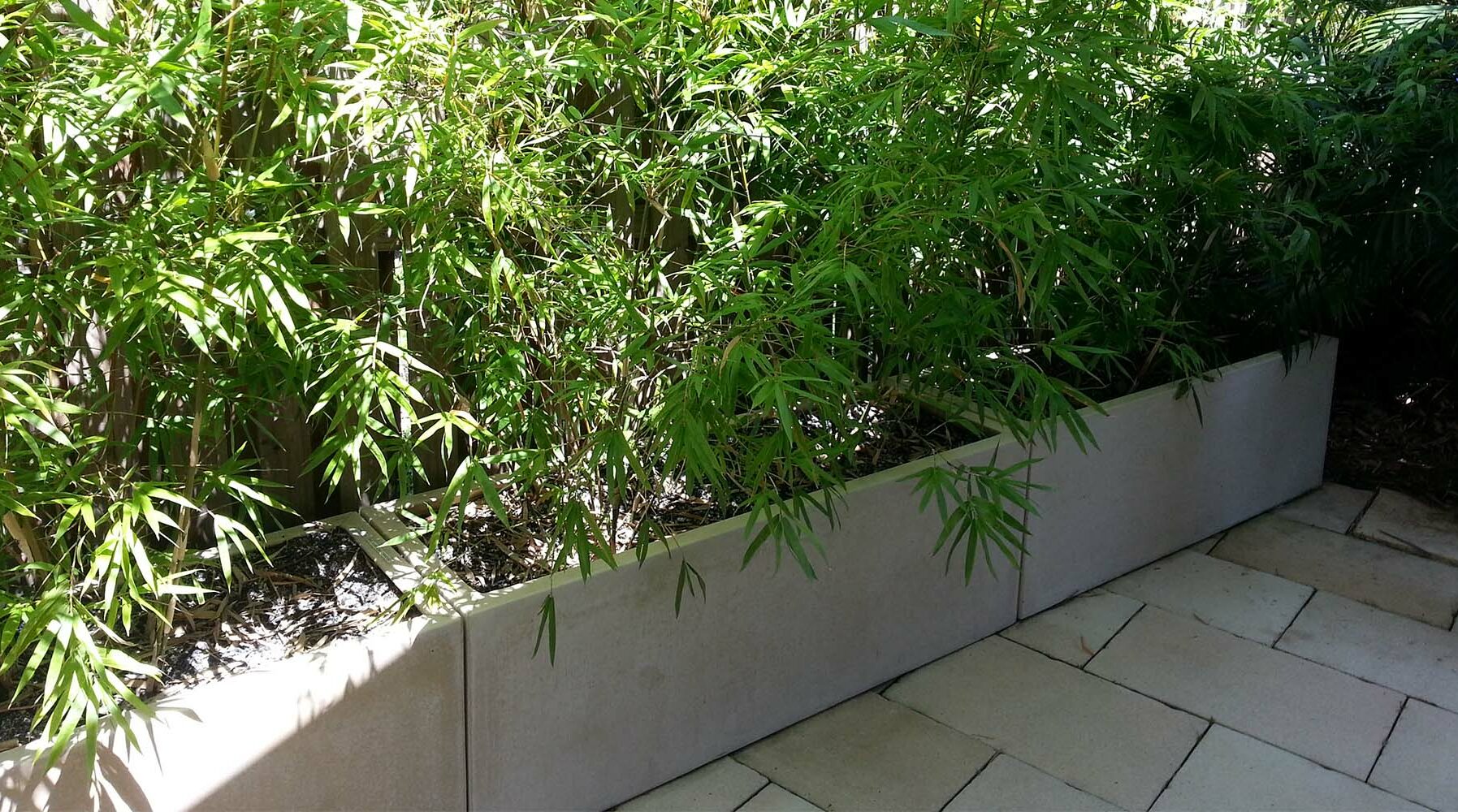 my bamboo planters
Back in late 2011 when I wanted a plant screen between our patio area and our neighbour's back yard, I decided on using fast-growing bamboo.
Bamboo can make great visual screens, but one of the concerns many people have about planting bamboo is that the roots will undermine their walls and paths, and take over their back yard.
We had around 4.5 metres of wall to screen, and so I chose to use three 1500mm long troughs from our 500 Modular Series of planter boxes.  The three trough planters are in our standard sandstone colour, and butt up to one another against our side timber fence.
My next step was to choose the best bamboo for our situation.  There are many types of bamboo, short and tall, some with running roots and others with clumping roots. So choosing the right bamboo for the area and intended purpose is critical.
On visiting Bamboo Down Under here on the Gold Coast, I chose to plant Bambusa boniopsis. According to their website,
Bambusa boniopsis grows to 4 mtrs in height and makes a fantastic screen or hedge.
It has a vase shaped form, in that it is very tight clumping at the base and fans out towards the top, with very dense foliage.
Boniopsis is also great for creating shade, without having to plant a large bamboo.
My next step was to plant out my six pots of bamboo plants (two per planter box).  I used a growing media called Bioganic Earth developed by John Daly of EcoEnvironment (see www.ecoenvironment.com.au). John is an experienced horticulturist and former curator of Brisbane's Parks and Gardens.  (Hint — we stock and sell John's Bioganic Earth at Quatro Design).
Within a few months of planting, the bamboo had sprouted new shoots and was well on the way to doing what I'd hoped it would do — make a decent visual screen.  Now almost a year and a half later, we have an attractive wall of bamboo, as you can see in these photos.
So if you're concerned about bamboo roots getting our of control, a great solution is to plant them in a suitable container, such as a GRC planter made here in Australia by Quatro Design.