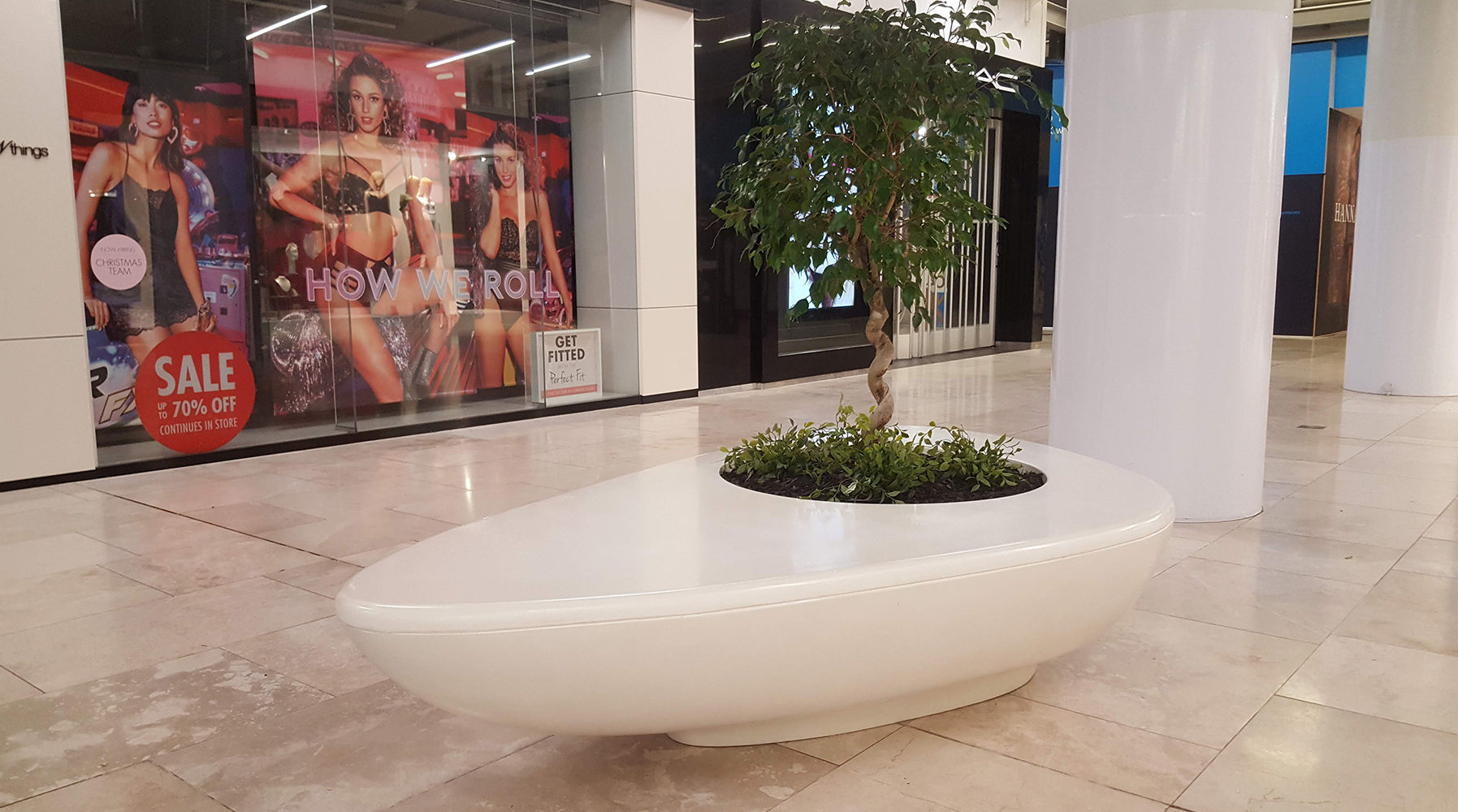 New Zealand Shopping Centres
Quatro Design's landscape pots, planters and street furniture ranges are made in Australia to strict quality standards. We are proud to supply our products to some of the most influential players in the local landscape and building industry.
In recent years we've expanded our reach and have successfully supplied GRC seat planters for shopping centre upgrades and developments in Auckland, Hamilton and Christchurch, New Zealand.
SYLVIA PARK, AUCKLAND
With more than 200 retailers on offer, Sylvia Park is known as New Zealand's premier destination for food, fashion, lifestyle and entertainment. Since its development in 2006 Sylvia Park has grown into New Zealand's largest shopping centre.
We supplied our Delta range seat planters for use inside the mall. The GRC Delta I in white compliments the interior styling theme of the shopping centre and provides rest and respite to all shoppers. The Delta incorporates indoor plants to provide greenery to soften the retail surrounds.
WESTFIELD RICCARTON, CHRISTCHURCH
We are incredibly proud of the exclusive seat planter range we've designed in collaboration with the Westfield Group, and have manufactured another beautiful seat planter for Westfield Riccarton in Christchurch.
Quatro Design manufactured the white GRC base whilst the timber top was manufactured locally in Christchurch to compliment and match the rest of the timber used on site.
The seat planter and plant selection add the finishing touch to the interior design theme for all the public seating areas.
We look forward to building our relationship with local shopping centre developers and landscapers in New Zealand and love seeing our products being used more across the pond. In addition to our standard GRC pot, planter and street furniture ranges we can assist with custom designs and manufacturing to suit each individual project too.
Quatro Design – where landscape meets architecture