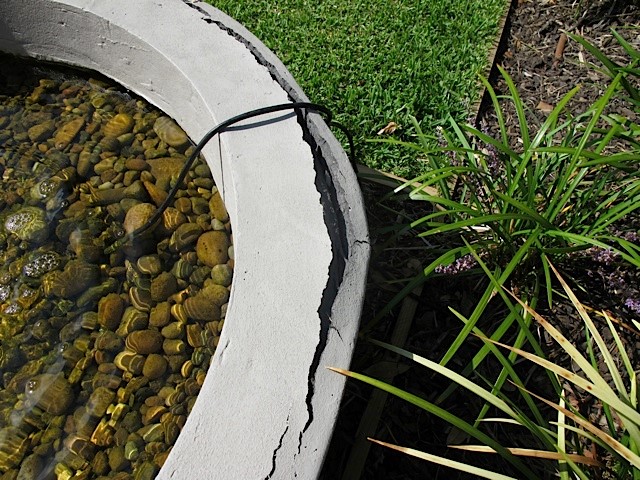 Not all GRC is the same
Do you remember the Castrol advertising campaign "Oils Ain't Oils" with Sol and his gangster friends – designed to introduce the motorist to 'man-made' synthetic oils?  The point of the ads was that not all oils are the same.  Likewise, products made in GRC (glassfibre reinforced concrete) are not all the same in terms of quality and durability.
Two recent emails we received clearly illustrated this reality.  The first email was from an architect concerned that the planter boxes in a project he had designed had developed an ugly discolouration on the outside surface.  The architect had specified Quatro Design planters for the project, and he therefore assumed that we had supplied them.
The photo the architect sent us showed the planter exteriors had developed a mottled, uneven appearance with efflorescence leaching from the walls around the base.  We have been making planter boxes for over 12 years but I have never seen any of our planters looking like this.
From a close examination of the photo we could see that the planters were not made by Quatro Design. We also checked our records and saw that we had quoted a builder to supply the custom planter boxes but we had never received an order for them.  The builder had instead purchased and installed a presumably cheaper alternative which also turned out to be an inferior alternative. The cost to the builder in rectifying the problem will be considerably more than the initial saving he made.
The second email we received was from a home owner in Sydney who had had a 'GRC' bowl water-feature installed in 2013 by a landscaper.  The bowl developed cracks around the rim, and it was replaced with a similar bowl in 2014.  This second bowl has now also developed cracks around the rim, and is disintegrating around the base so that it no longer holds water.
Because of the design, the home owner thought that the bowls may have been purchased by the landscaper from Quatro Design.  She attached several photographs which confirmed to us that we had not supplied the failed bowls.  She now plans to order a genuine Quatro Design GRC bowl.  I'm confident she won't be disappointed.  I have a similar-sized bowl in my own backyard that features water lilies and gold fish.  I installed almost it almost 10 years ago, and its still as good as on the day I filled it with water.
The lesson is that not all GRC is the same, and you generally get what you pay for.
At Quatro Design we use the best materials available in our GRC pots, planters and street furniture products that we make right here in Australia.  We don't cut corners in their manufacture, and we provide a two-year warranty.  So while you may pay a little more, you also get a superior product.