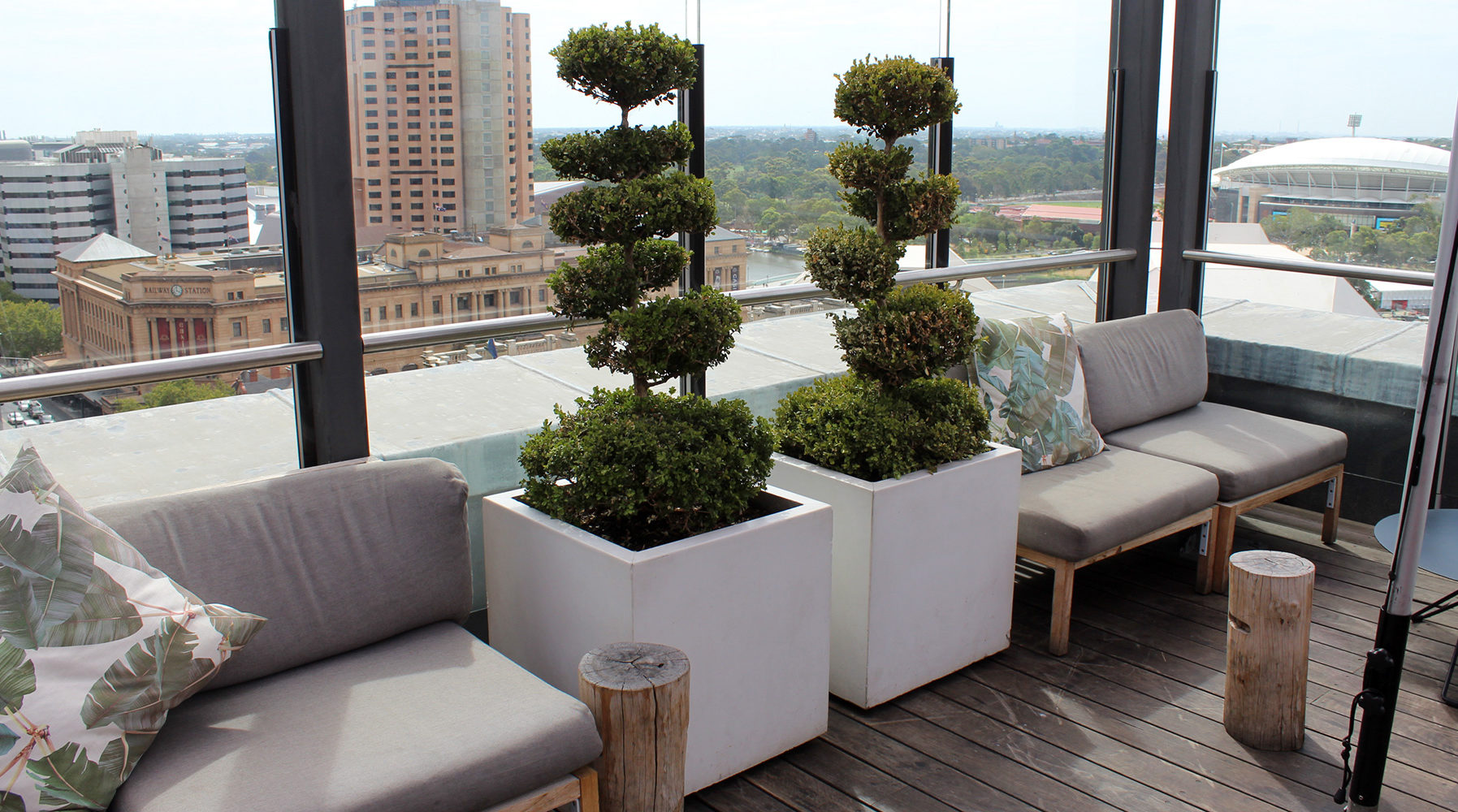 Rooftop Gardens
Adding additional greenery has become a priority for urban planners but finding a balance between optimum residency and greenery is not without its challenges.
Landscaping of rooftops, balcony gardens, foyers and even the sides of buildings has therefore increased in popularity to facilitate the introduction of green spaces in all new developments.
Rooftop gardens in particular provide an outdoor living space for residents and allow for recreational activities and entertaining. Some developments even offer resort-style rooftop amenities for residents to promote physical activity and psychological well-being.
These rooftop gardens often include planters and plants, dining and lounging furniture, swimming pools and pergolas to provide a reprieve from the urban surrounds.
Rooftop bars and dining has also increased in popularity. The views and exposure to sunlight and other elements provide an escape from grey city living and the addition of plants soften the harsh concrete surrounds.
ROOFTOP GARDEN LANDSCAPING & BENEFITS:
Pots, planters, water features and plants can be stylised and themed to compliment the architectural style of the building to ensure that each rooftop garden has its own unique style and personality to suit the lifestyle being promoted by the developer.
Adding plants to rooftops not only adds to the aesthetic value of the property but improves the air quality and facilitates noise reduction. Plants also reduce the heat absorption of a building which in turn reduces energy consumption.
The views and vistas from the rooftop of buildings also give a sense of space and is a wonderful way to make use of the borrowed landscape.
QUATRO DESIGN IN ROOFTOP GARDENS:
Quatro Design has provided bowls, pots and planters for iconic rooftop garden landscape installations over the years and we're very proud of the results.
The use of our over-sized bowls, pots and planters lends a sense space and will make the rooftop and balcony feel bigger as groupings of small pots creates clutter and could make the space feel small and untidy. Large pots also have the added benefit of providing additional space for root growth which in turn results in healthier plants.
Quatro Design – where landscape meets architecture