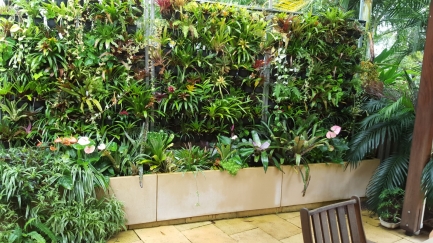 trellis planters
Using 3 standard Quatro 1500 (500 Series) trough planter boxes, John here at Quatro Design has set up a beautiful green wall vertical garden along one wall of his courtyard. John bolted a galvanised steel frame with mesh panel to the planters, and then around 80 Skale green wall pots were hung on the mesh of each frame.
He then installed a simple drip-irrigation system which irrigates the top row of pots. Excess water then flows down from pot to pot, and within just a few minutes the entire wall has been watered.
The plants, many of them bromeliads, were potted out around this time last year. The usual sight of the drab back fence is now but a distant memory as John now looks upon the verdant, lush, tropical green living wall he has created.