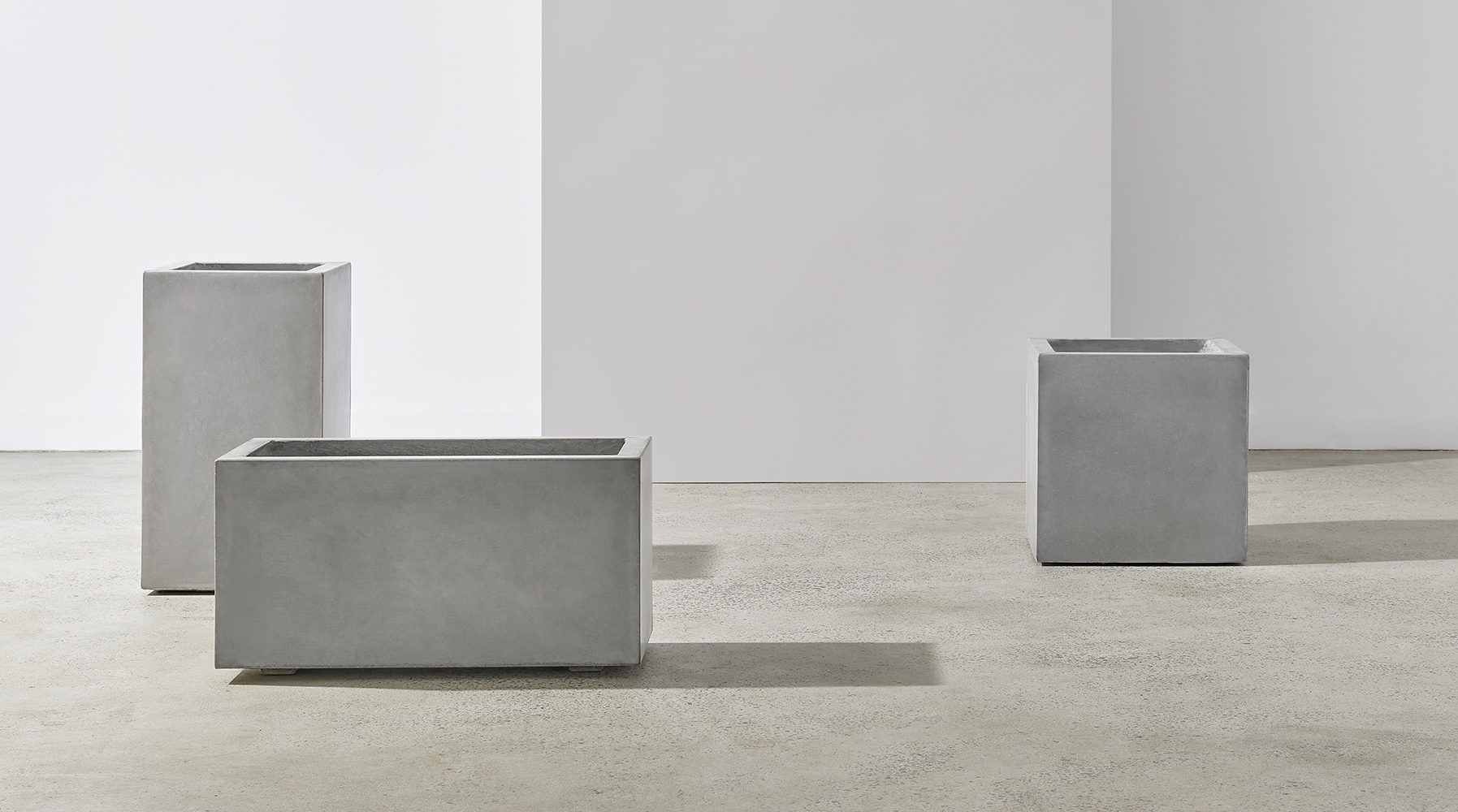 Trough Planters
Quatro Design has an extensive range of modern contemporary trough planter boxes, large rectangular planters and square planters to suit any landscape application, whether it is to streetscape and provide greenery to compliment commercial spaces and office buildings or to assist with screening and privacy on balcony and rooftop gardens.
Our GRC (Glassfibre Reinforced Concrete) troughs are made from a mixture of cement, sand and other additives that is reinforced with bundled strands of fibreglass filaments, this increases the strength of the concrete whilst reducing the weight of the planter compared to pre-cast concrete products. All pots, planter boxes and seats come in four standard colours: white, concrete grey, charcoal and sandstone.
400 SERIES MODULAR TROUGHS
Our 400 Series troughs are perfectly suited to add greenery and screening to narrow spaces. Our 400mm wide by 400mm high troughs are manufactured in the following lengths: 800mm, 1200m, 1600mm and 2000mm. Ornamental grasses like Liriope or Pennisetum and sculptural succulent plants like Sanseveria compliment this range very well.
500 SERIES MODULAR TROUGHS
Our 500 Series troughs are the perfect modular solution and can be used in virtually any landscaping project. Our 500mm wide by 500mm high planter boxes are manufactured in the following lengths: 1000mm, 1500mm, 2000mm and 2500mm. Small ornamental shrubs like Buxus or Rhaphiolepis can be planted to form an instant hedge.
600 SERIES MODULAR TROUGHS
Quatro's 600 Series trough planters are the perfect contemporary accessory for rooftop gardens and decks. The wider base (compared to our 400mm and 500mm troughs) is better suited to medium-sized shrubs and screening plants to provide screening and privacy to outdoor areas. Screenings shrubs like Nandina, Murraya and clumping Bamboo varieties compliment this modern trough range well. Our 600mm wide by 600mm high troughs come in the following lengths: 1200mm and 1800mm.
NARROW TALL TROUGHS
Our range of Narrow Tall Planters are ideal for landscape situations where you require tall trough planter boxes that have a narrow footprint. They are often used as balustrade planters and add a modern touch to any balcony garden.
The narrow tall troughs have been designed in a number of sizes to address every landscape gardening scenario.
SQUARE PLANTER BOXES
Our Square Planter Box Range brings architectural and formal lines into the landscape and make very attractive outdoor features, particularly when the large and oversized cubes are used. There are a variety of square trough sizes available from 400mm, to 500mm, 600mm, 700mm, 800mm, 900mm and larger sizes like 1000mm, 1100mm, 1200mm, 1500mm to our impressive oversized 1800mm and 2000mm cubes that make a real statement.
EXTRA LARGE TROUGHS
Quatro Design's Civic Range is a specifier's dream, with numerous landscape architecture, commercial shopping centre and urban landscaping applications. The large sizes available ensure that both the planter boxes and added greenery are modern and attractive features. The following are some of our popular sizes: 1200x1200x800mm, 1500x600x1000mm, 1500x1500x1000mm, 2000x500x1000mm and 2200x1000x800mm.
CUSTOM POT DESIGN & MANUFACTURE
Don't see a trough suited to your site conditions yet? The experienced Quatro Design team can also assist with custom designed and manufactured troughs and planter boxes made to order to your specifications.
Contact us to discuss how we can assist you with your next project.
Quatro Design – Where landscape meets architecture