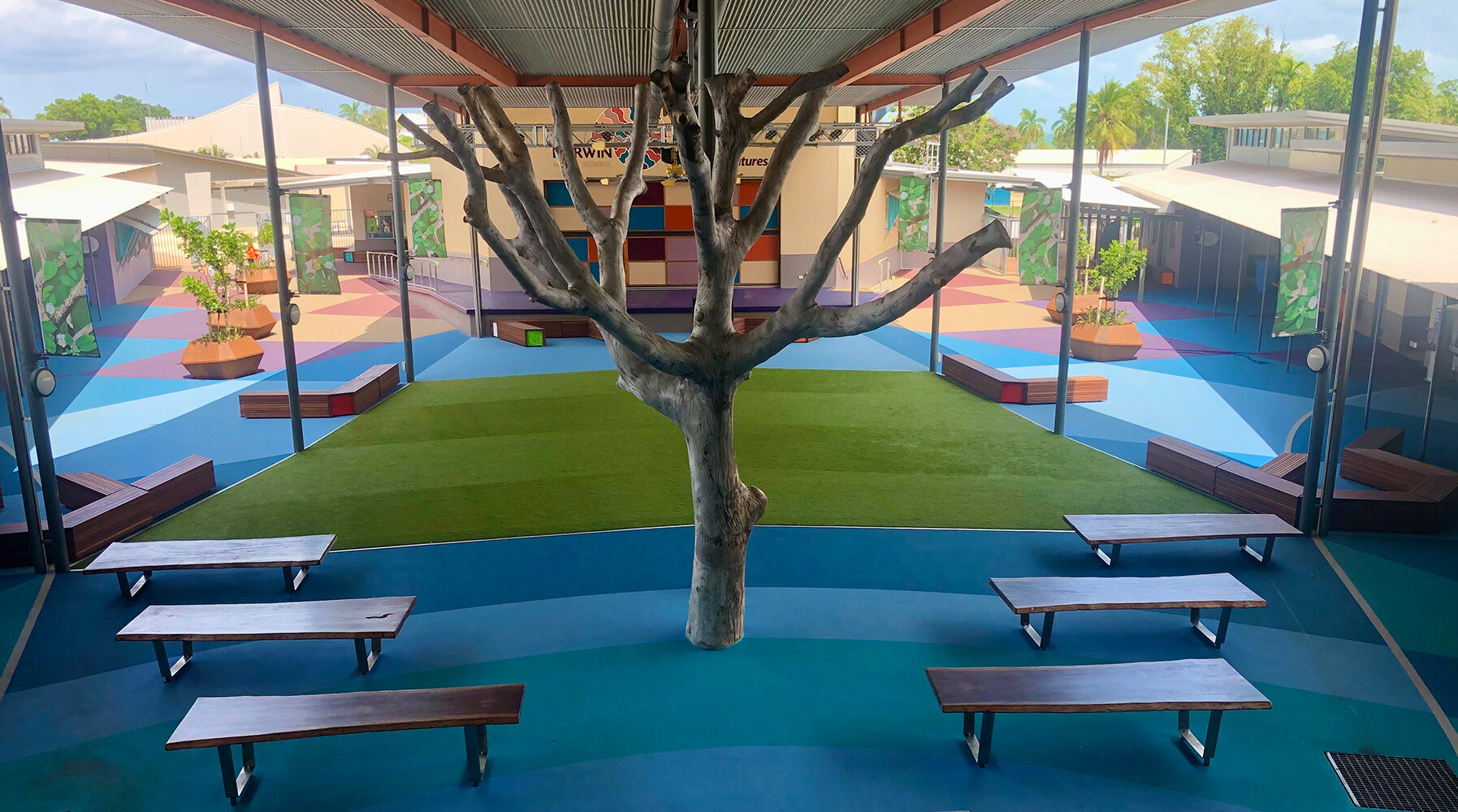 Darwin Middle School
Darwin, Northern Territory
Our Gem planters were specified for the recent renovation of Darwin Middle School's central courtyard.
The design and renovation intent by acclaimed landscape architect Marisa Fontes from Outsidesign, saw the courtyard transform from a hard space with a harsh and dated orange colour palette into a tranquil and cool "Biosphere" courtyard.
The renovated space will be utilized as an outdoor classroom, yoga space and to host quiet social gatherings.
Our 1500 Gem planters were used to introduce living greenery into the space and their angular edges nest well within the tessellated pattern of the freshly painted surface. The planter's powerful lines and geometry also provide great shadow effects on the different surface colours.
The Gem planters were manufactured with a custom rust paint effect to match the use of corten steel in a grassed terrace area nearby that feeds into the courtyard.
Marisa from Outsidesign personally oversaw the project from design to installation and worked closely with the team from Freeform Contracting who installed the planters. Freeform Contracting were involved with previous renovation projects at the school, including the grassed terraces with angular corten steel planters that inspired the use of the rust effect painted finish on the Gem planters.
The school precinct includes Darwin High School and a shared oval where an African Mahogany (Khaya senegalensis) tree was planted over 60 years ago. This mother tree and subsequently established daughter tree provided shade to the oval and surrounds until they were blown over by Tropical Cyclone Marcus in 2018.
Both trees were salvaged and installed as feature sculptural pieces in the renovated courtyard. The daughter tree forms the stunning focal point and is the inspiration behind the seed pod bespoke pattern, designed by Marisa, on the custom powder coated metal panels of the timber seating units supplied by Botton + Gardiner.
The warm natural tones of the timber and rust elements compliment the cool and soothing environment created by Marisa and provides students with a tranquil space that inspires creativity and learning.
Credits:
Design, project management and photography by Marisa Fontes from Outsidesign.
Installation by Freeform Contracting
Links: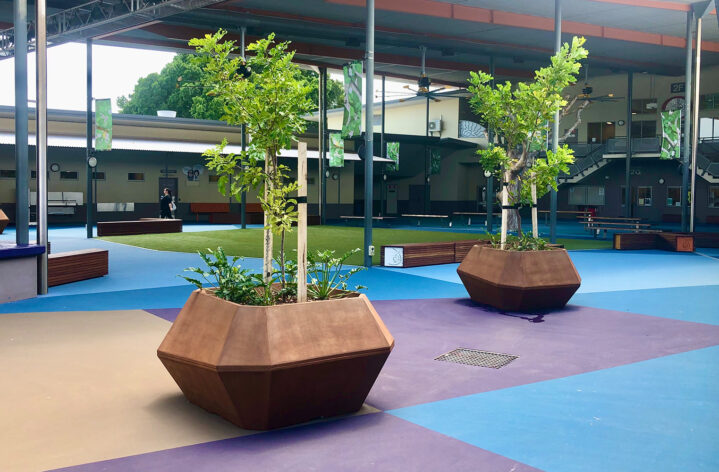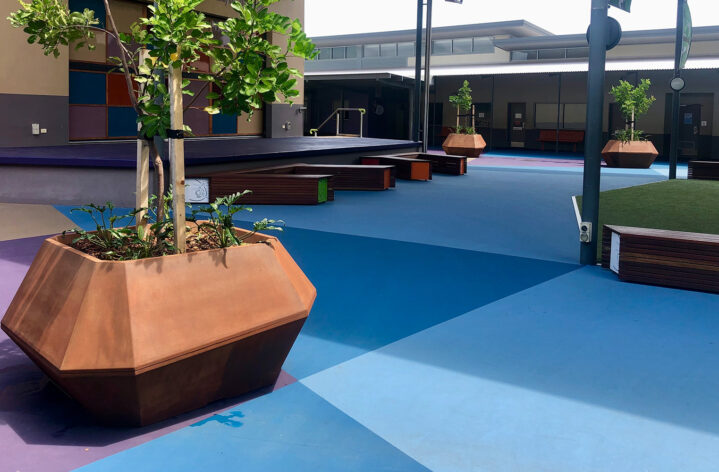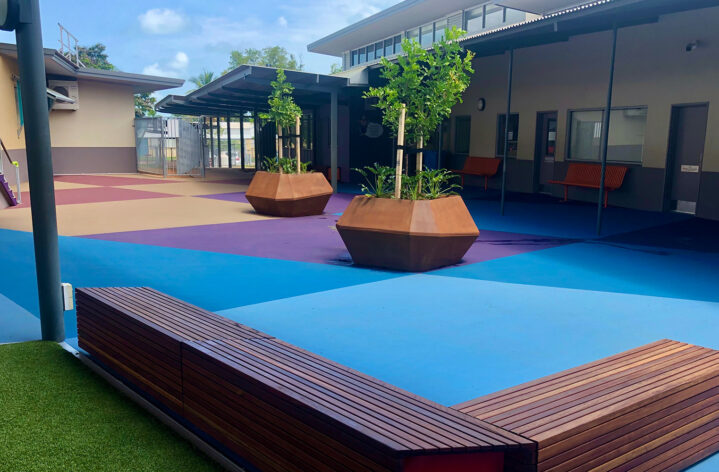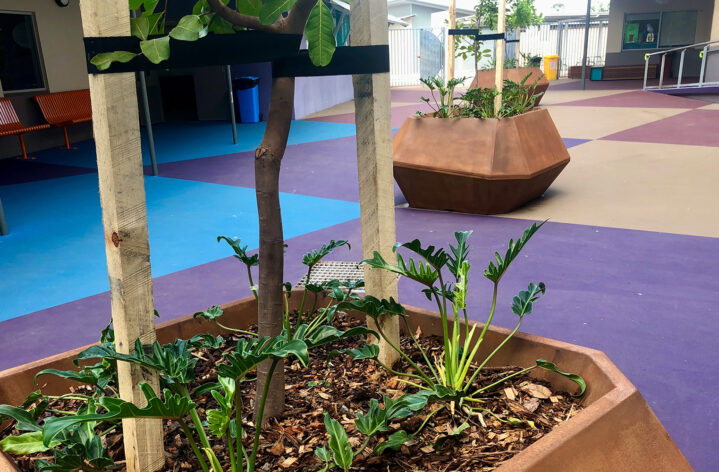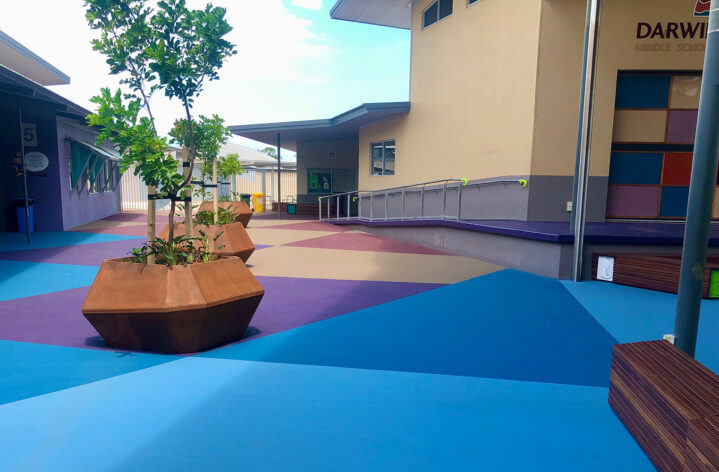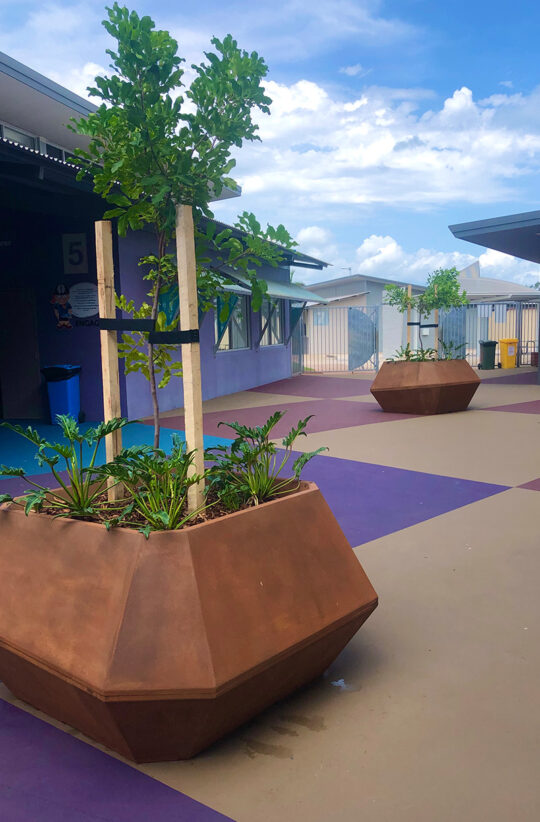 The planter's powerful lines and geometry provide great shadow effects on the different surface colours.
Marisa Fontes, Outsidesign