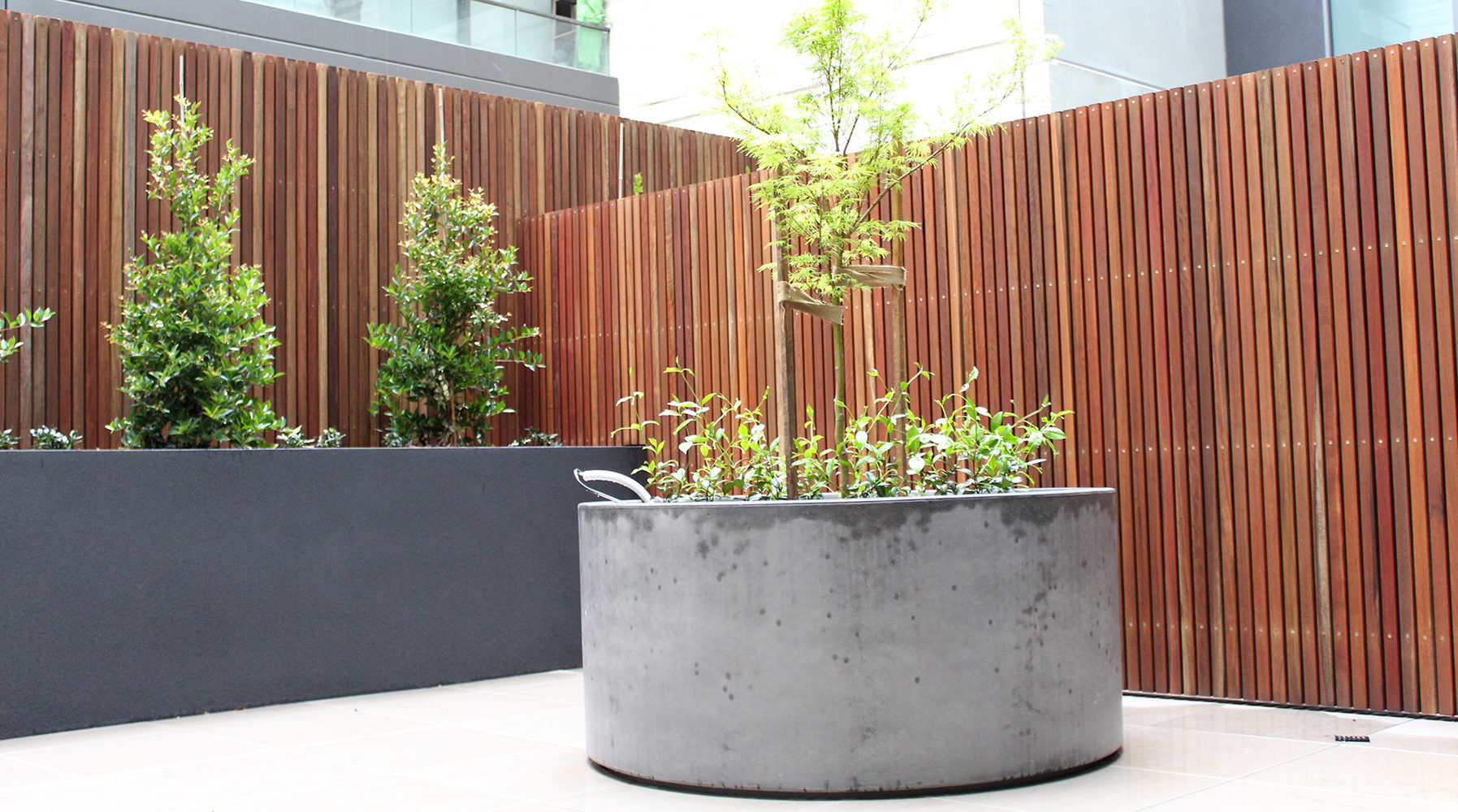 Frame, Richmond
Frame is a boutique and truly unique apartment building situated on the highest point of Richmond Hill, Melbourne. A collection of luxury apartments and multi-level penthouses are centralised around a ground level courtyard garden. This atrium-like space transports natural light and greenery into the heart of the building.
The award-winning Architecture Design team from Hayball took inspiration from Richmond's industrial past and character through the use of concrete, steel, timber and glazing. This has resulted in the building's timeless contemporary architectural character in one of Richmond's most prestigious neighbourhoods.
Frame's rooftop gardens feature elements such as alfresco dining spaces, pergola covered timber decks and a modern lawn with secluded seating pockets, designed by celebrated landscape architect Jack Merlo.
The Botanical Group utilised a collection of our GRC (Glassfibre Reinforced Concrete) Cylinder Planters as part of their garden landscaping projects in this acclaimed building.
1500 Cylinders in Charcoal were added to the courtyards of two ground floor apartments to facilitate the introduction of trees and additional greenery to their small gardens. The vibrant green foliage is complimented by the charcoal grey cylinders and masonry planter boxes and provide a lovely contrast against timber batten privacy screening.
1200 GRC Cylinders in Charcoal were used on the 3rd floor rooftop garden of one of the multi-level apartments to continue the landscaping theme and to provide screening and interest.
The contemporary clean lines and natural charcoal tones of our planters compliment the architectural theme of the building and will continue to add timeless elegance to the maturing garden spaces.
Quatro Design – where landscape meets architecture
Links: