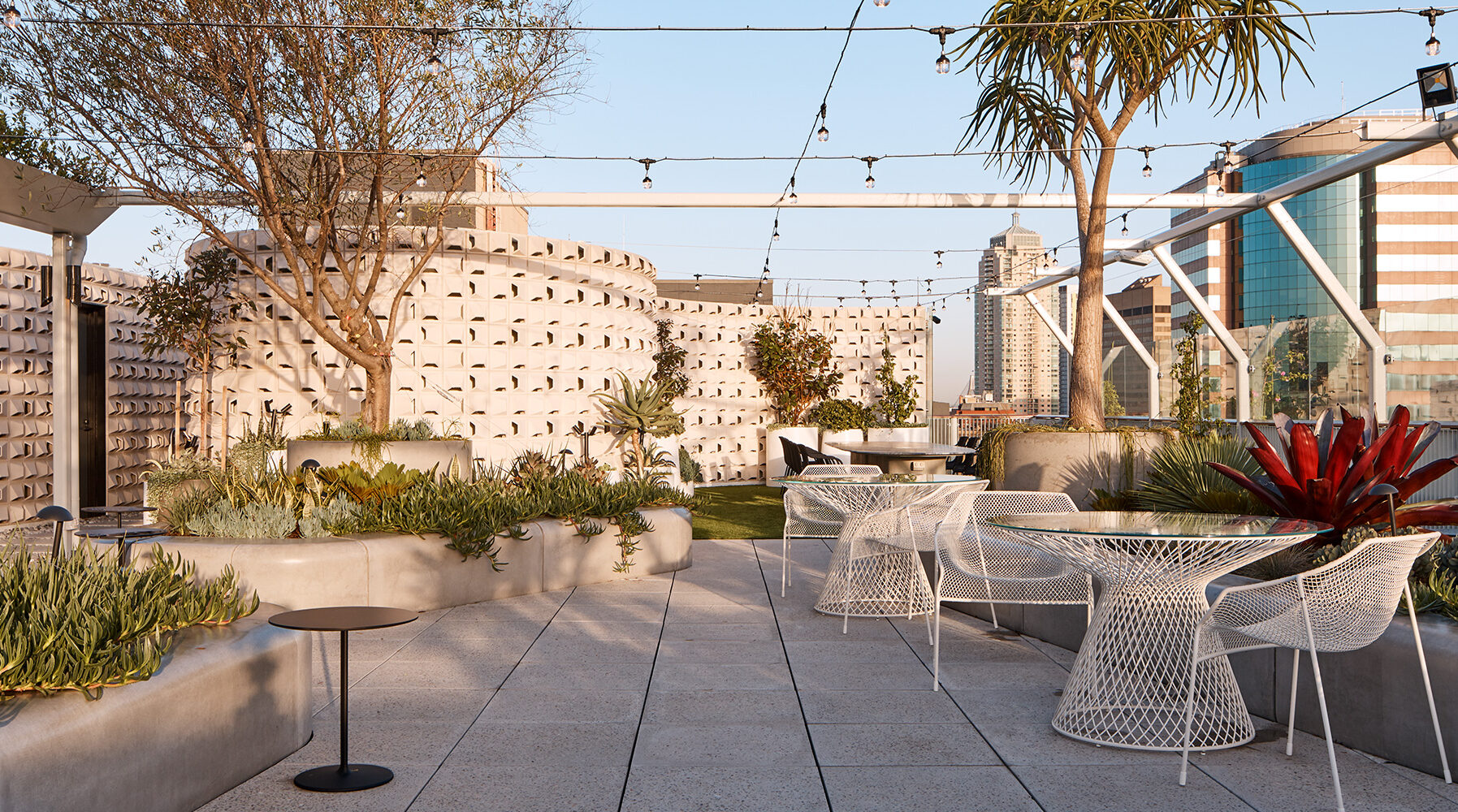 Habitat House
Habitat House's high-end facilities combined with its natural light and creative, modern atmosphere has it set to become Surry Hill's leading commercial address. Architecture firm The World is Round was engaged by April Group to reposition this 1960's former fashion warehouse as a premium offering, focussing on lifestyle, wellbeing, amenities and collaboration.
MPA Projects completed the refurbishment across eight commercial levels, two basements and a conversion of the roof into a vibrant rooftop garden. The completed project includes a new hotel-like end-of-trip facility, the lobby area features a striking glass brick curved wall and charred timber panelling and the light-filled workspaces with their signature raw floors encourages creativity and collaboration. The basement carparks include bike storage and colourful mural art and the inspired rooftop with its multi-faceted green space has been a key drawcard to tenants.
Aware of the correlation between mental health and access to green space, the owner conceived the rooftop as an urban escape to help support the wellbeing of their tenants. It can be used as an entertainment area, for meetings and even yoga and meditation. Inspired by The World is Round's design theme and true to the owner's vision for the rooftop Arcadia designed and engineered the communal rooftop space to create a green oasis where tenants can reenergise their minds and connect with others. Using ultra luxurious and contemporary finishes the space includes an outdoor kitchen and bar, a breeze-block feature acoustic wall, a range of seating amenities, an outdoor lounge and a yoga deck.
We manufactured the signature raised garden beds, a suite of bespoke tables and a custom seat planter for this spectacular rooftop garden. Our cylinder planters were used to provide additional internal height in the raised garden beds to showcase all feature trees. We were able to guide Arcadia and MPA's design and estimating teams on the parameters of working with GRC (Glassfibre Reinforced Concrete) and mould-making and could provide valuable guidelines and product drawings to resolve the final designs.
MPA was awarded for their outstanding work on this project by the Master Builders Association of NSW. They were the 2020 Winners in the Refurbishment / Renovation / Extension $15 000 001 – $20 000 000 category. We extend our congratulations to the entire team.
Download our detailed case study on the custom raised garden beds, table and planter units and round seat planter for this signature rooftop garden here.
Photography by Terence Chin.