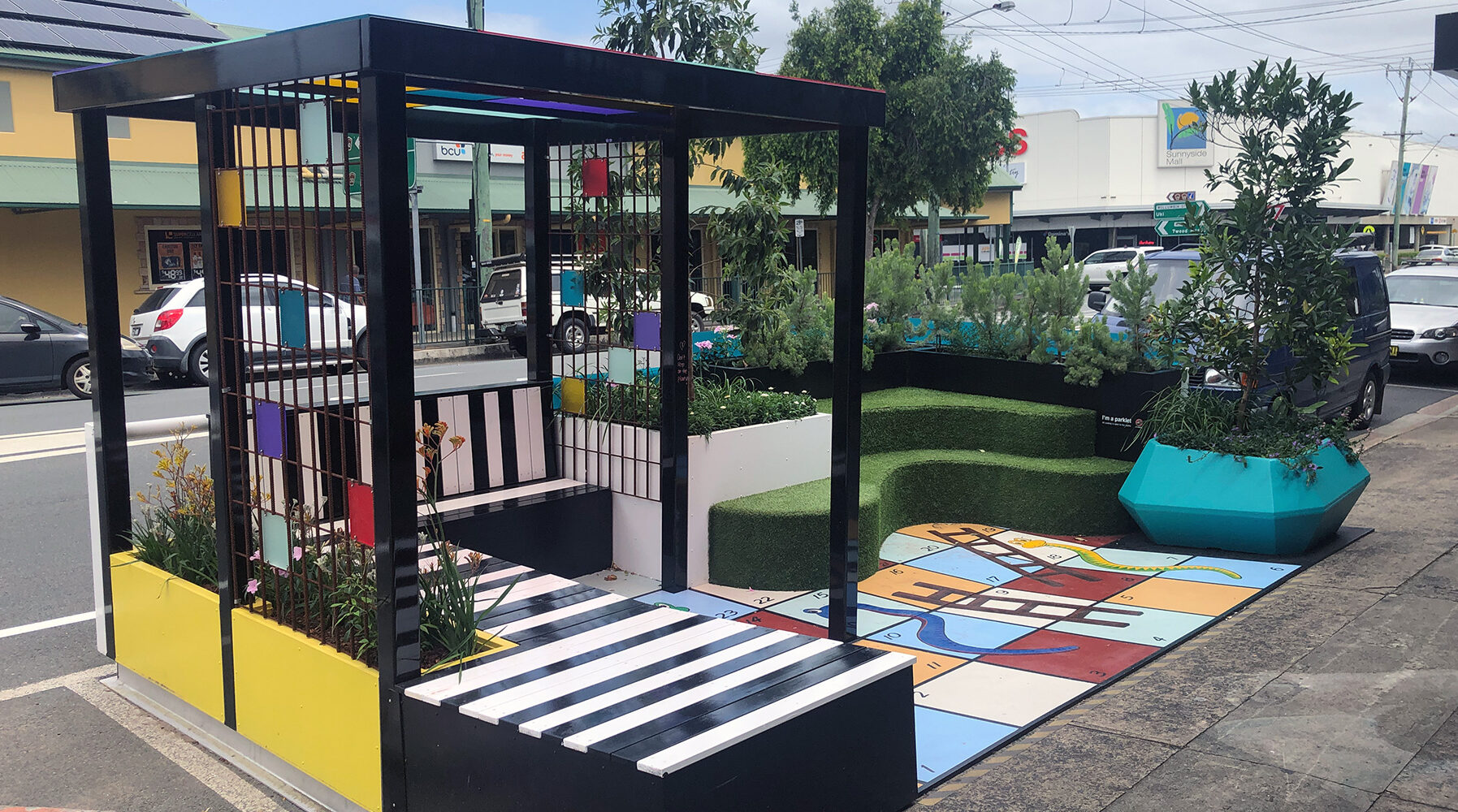 Tweed Green Parklet, Public Art and Activation Project
The Tweed Green Parklet, Public Art and Activation Project saw the installation of pop-up art seating as well as two temporary parklets within Murwillumbah CBD. This project by Tweed Shire Council and the NSW Government's Streets and Shared Spaces initiative is providing seating, greenery and an interactive space for our local community.
As part of this initiative, six local artists turned our 500 Pod Cylindrical seats and 1200 trough planters (from our 400 Series) into works of art inspired by water, sky and land. These seats and planter boxes will provide pockets of green and splashes of colour to Murwillumbah's CBD.
Artists Jason King, Phillip J Hay, Judy Oakenfull, Mitchell Schultz, Cam Scale and Mealie Batchelor created stunning artworks featuring iconic elements from the Tweed Shire including Mount Warning, sugar cane fields, harvesters, local sea life and even cheeky magpies and seagulls.
Jason King's aboriginal artwork represents the 2017 flood and the amazing supportive community spirit that followed in its aftermath. The colourful circles represent this community spirit and was added to all planter boxes and seats to act as a reminder of how everyone came together to support one-another following the devastation caused by the flood waters.
Our 1200 Gem planters were painted in a custom teal colour to add vibrancy and interest to the two parklets. The parklets were installed as extensions to footpaths to create an interactive space and have created quite a buzz in our local community. The parklets are removable and recyclable and can be relocated to other locations if required.
Council has been overwhelmed by the community's positive feedback and we look forward to collaborating with them on more public space projects like these in the future.
Visit www.yoursaytweed.com.au/parklet for more information about the project.
Links: