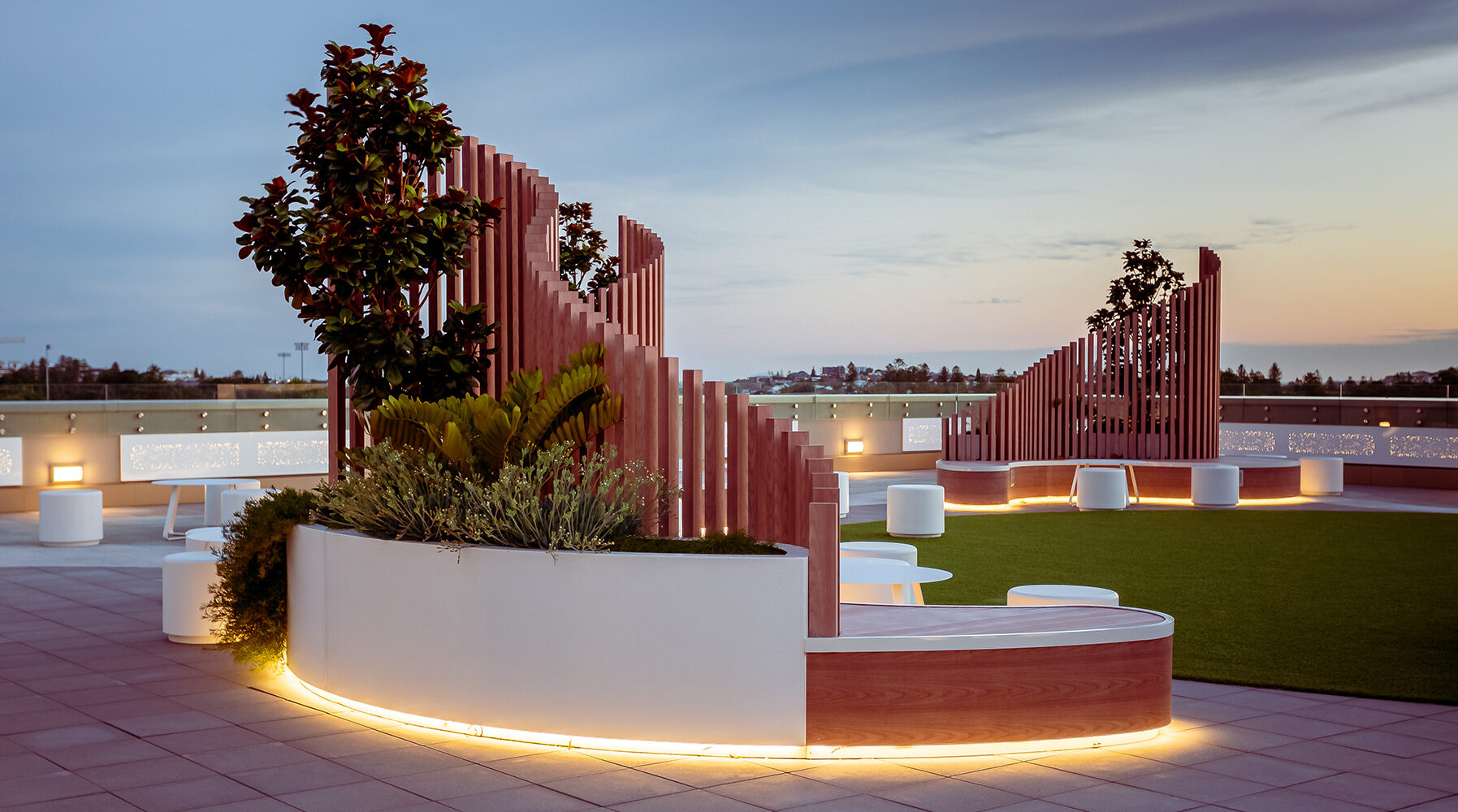 City of Newcastle
Known as project "City Change" to reflect its role in the westward move of the city's CBD, City of Newcastle recently moved into their new City Administration Centre. This new space was designed to provide value and a seamless experience to community members as well as a better work environment and culture for employees. The project was completed in 4 parts: an office space for administrative staff, a brand new state of the art digital library, the new Council Chamber and a purpose built Local Emergency Operations Centre.
The new and modern office space was designed for greater workplace flexibility as well as collaboration and communication whilst promoting health and well-being. It includes a bright, open kitchen and dining area and an outdoor terrace to encourage employees to take a break away from their traditional work environment, hold informal meetings and to easily collaborate on projects.
The outdoor terrace with its stunning rooftop garden offers a variety of seating options and there is access to Wi-Fi, audio and power to encourage working outdoors which has proven health and well-being benefits.
Graphite Projects was the contracts administrator on this project and their fitout included the office and call centre, Council Chambers, external façade and the building services upgrade. They successfully participated in the project's design development, cost and value engineering and coordinated all construction works.
Newcastle-based Terras Landscape Architects designed all green areas including the outdoor terrace roof garden. Their design included custom curved seat planters to provide seating and easily enable employees to work outside. The custom curved seat planter also has USB ports built-in to facilitate a seamless transition from working indoors to the outdoors. Terras also specified our 500 Pod Cylindrical Seats as additional seating.
Descas Landscapes was awarded the landscaping contract and were responsible for bringing the landscape architecture vision to life. Their scope included all garden beds, potted plants and wall features, pebbles, pavers, concrete, artificial lawn and the installation of all seating elements on the rooftop. Descas approached us to assist with the manufacture of the custom curved seats. We provided shop drawings to resolve the design concepts and manufactured the seats in two parts that were assembled on site. Descas Landscapes also ordered custom trough planters, our 400 Fusion pots as well as 600 Cylinder planters for this installation.
The final rooftop garden installation is spectacular, particularly at night, and we are proud to have played a small part in its creation. We extend our congratulations to all parties involved.
Photographs supplied by Descas Landscapes.