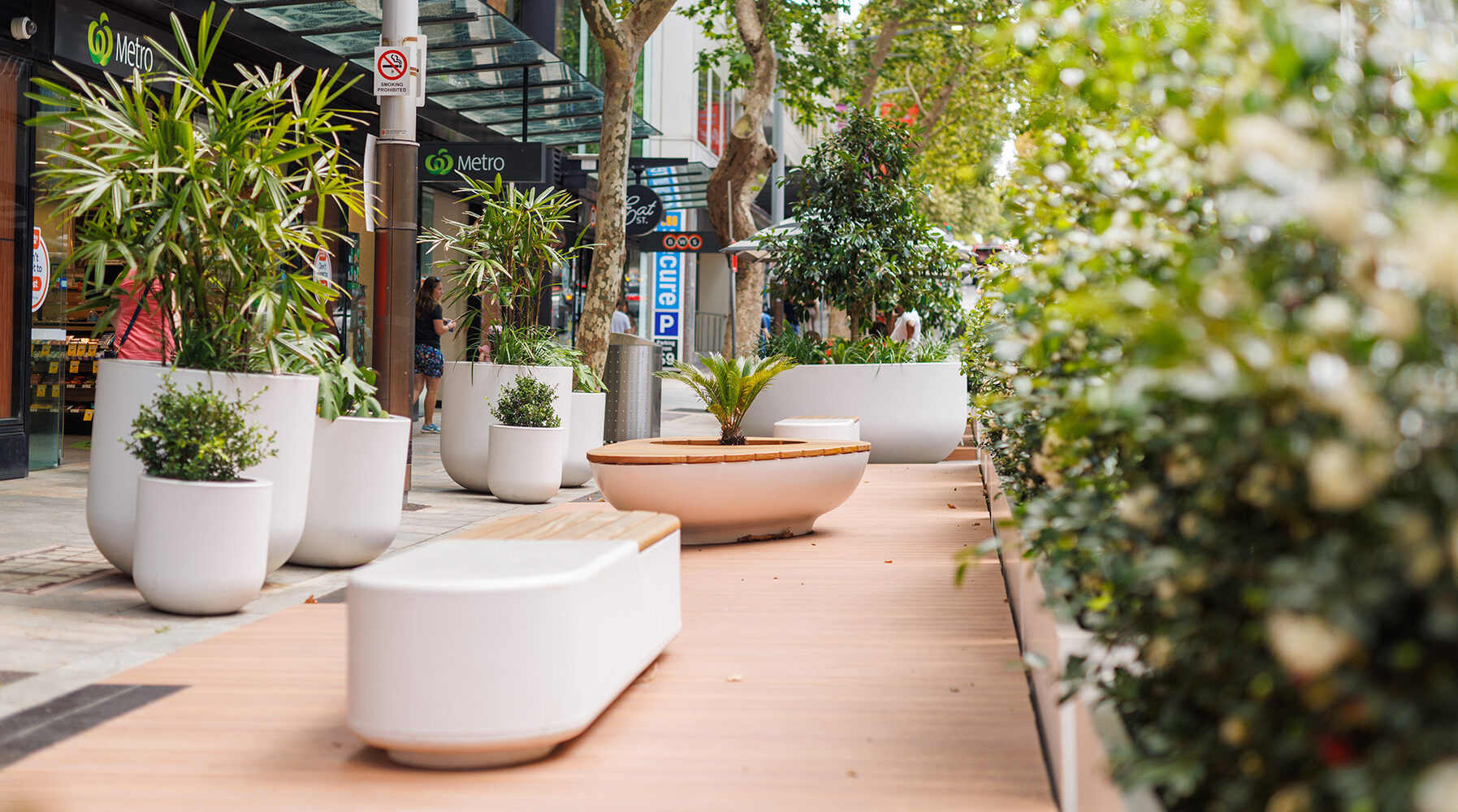 Pocket Park in the Heart of North Sydney
Landscape architects and urban strategists Spackman Mossop Michaels recently transformed Miller Street into an inviting pocket park. They worked collaboratively with North Sydney Council to deliver this pop-up plaza under the NSW Department of Planning & Environment Streets as Shared Spaces program.
Fronting Northpoint Tower and its iconic Eat Street, one of North Sydney's most vibrant landmark offerings, the pocket park has reactivated this public space and streetscape, transforming it into a lush and cool urban oasis. A far cry from its former roots as a parking / loading / clear zone.
Local residents, workers and visitors all use this permanent parklet as a space in which to meet, eat, mingle and rest.
Our 500 Series trough planters (2500x500x500) were used to create a green backdrop and screen seating areas from the road. Our Soul, Deco and Delta seat planters provide areas of rest and relaxation amongst attractive clusters of our U Bowl, Narrow Tall and Civic planters.
Our 1240 Tall Soul Flower Pots and 2200 U Bowls were planted with trees and used as feature pots, adding additional height and complimenting the existing mature trees along the street front.
The pop-up plaza has truly rejuvenated the local area and forms part of Council's broader vision for Miller Street's pedestrian friendly future.
This pocket park transformation has been short-listed for AILA NSW Small Projects Award 2022.
Credits:
Landscape Architects: Spackman Mossop Michaels
Landscape Construction: Shamrock Developments International
Photographs courtesy of Spackman Mossop Michaels, photography by Ben Williams